A gripping, emotional page-turner that will make you laugh and cry
Irish Sunday Times No. 2. Bestseller
Amazon UK, US & Canadian No. 1. Bestseller
Shortlisted: Popular Book of the Year, Irish Book Awards 2017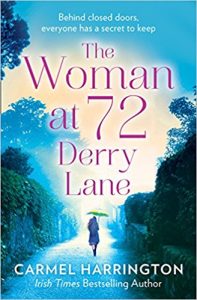 On a leafy suburban street in Dublin, beautiful, poised Stella Greene lives with her successful husband, Matt. The perfect couple in every way, Stella appears to have it all.
Next door, at number 72 however, lives Rea Brady. Gruff, bad-tempered and rarely seen besides the twitching of her net curtains, rumour has it she's lost it all…including her marbles, if you believe the neighbourhood gossip.
But appearances can be deceiving and when Stella and Rea's worlds collide they realise they have much in common.
Both are trapped in a prison of their own making.
Has help been next door without them realising it?
Endorsements:
'Carmel Harrington is a natural storyteller. You really root for Stella and Rea.
This is a book with heart, humour and hope.'
RTE – Culture
***
'A complete page-turner and an emotional rollercoaster. Tissues will be required.'
Sinead Moriarty, No.1 Irish Bestseller
***
'A heartwarming and emotional read.'
Irish Country Magazine
***
'The Woman at 72 Derry Lane gives a nuanced view of both the perpetrator and the victim of domestic violence
… it is, at heart, a warm novel. '
Sunday Independent
***
'Beautifully written, emotionally intelligent and moving in the extreme.'
Daily Mail UK
***
"Mesmerizing! A compelling and emotional novel that will delight and hurt, in equal measures.
Sure to be a summer sensation.'
Bleach house Library
***
'Carmel Harrington has crafted a book that crosses genres and speaks to every reader.  Her characters are expertly drawn, familiar without ever being stereotypes – each has a voice that resonates emotionally, prompting tears, laughter, anger and pride as the story carries you from moments of deep despair to unfettered joy.  The Woman at 72 Derry Lane is a powerhouse of writing and a remarkable achievement.'
Shane Dunphy, London Times Bestseller
***
'Carmel Harrington has surpassed herself with her latest novel. I both cried and laughed often at the same time.
It is one of the best books I have ever read. A winner all round.'
Woman's Way
***
'Warm and wise.'
Claudia Carroll, Irish Times Bestseller.
***
'Superb.'
Sinead Crowley, Irish Times Bestseller
***
'Recommended read for the summer. Will keep young and old adults enthralled!'
Donal Ryan, Irish Times Bestseller & winner of Irish Book of the Decade
***
'Carmel Harrington has done it again! On every page, The Woman at 72 Derry Lane will make you laugh
and break your heart, and is sure to be adored by Carmel's legions of fans.'
Hazel Gaynor, New York Times Bestseller
 ***
'With laugh out loud moments and moments that will play your heartstrings like a harp,
this book is both heart-wrenching and uplifting. The perfect summer read.'
Fionnuala Kearney, Irish Times Bestseller
***
'Fiercely superb! An important story of love, family, strength, and bravery, and I literally did not put this book down until I had it finished. I know I will find myself thinking about Stella and Rea and those they love, as Carmel has created characters that do not disappear from memory when you close the page, but rather they take up a place in your heart and mind where they will probably stay forever – and to me that is what a powerful novel is all about.'
Books of all kind
***
'a wonderfully warm-hearted read about resilience,  the enduring bonds of family ties, the power of friendship and it is full of emotion. The strength of the women to cope with adversity and face the future with hope makes it such an uplifting read. All the stars for this book and straight on my list of top reads for 2017.'
Portobello Book Blog
What Carmel says:
I hope you enjoy Rea, Stella and Skye's stories. I suspect that parts of this book will be difficult to read. My editors have described scenes as raw, visceral and utterly heartbreaking. And, I have to confess, that in writing those parts, my heart splintered. I had to remove myself from my family, from the children in particular, so I could write them. It made me question life and death, the randomness of fate that allows some to survive and others to die. But it also made me hopeful, as I peeled back the layers of my characters and they revealed great strength, humanity, bravery, love and resilience.
My research also took me inside the doors of domestic abuse victims and agoraphobics. I am grateful to every single person who spoke so honestly about their lives, who taught me and are now teaching others.
Thank you for reading,
Carmel