AN IRISH TIMES AND SUNDAY INDEPENDENT BESTSELLER
SHORTLISTED FOR AN IRISH BOOK AWARD 2016
AN AMAZON UK, US & CANADIAN NO. 1 BESTSELLER
Foreign translation rights have been sold to Hungary, Finland, Norway and Sweden.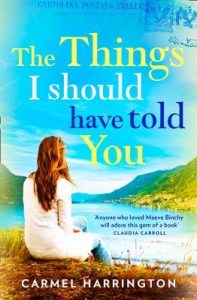 Every family has a story,
But for the Guinness family, a happy ending looks out of reach. Olly and Mae's marriage is crumbling, their teenage daughter Evie is on a mission to self-destruct and their beloved Pops is dying of cancer. Their once strong family unit is slowly falling apart.
But Pops has one final gift to offer his beloved family – a ray of hope to cling to. As his life's journey draws to a close, he sends his family on an adventure across Europe in a camper van, guided by his letters, his wisdom and his love.
Because Pops knows that all his family need is time to be together, to find their love for each other and to find their way back home…
Endorsements
"Get your tissues ready!"  
Best Magazine
"Deeply moving, I felt I was living with the Guinness family, in this hugely evocative, just-what-you-need hug of a novel."
Woman's Way, chosen as a top read of 2016
"A bittersweet tale of family and love on a stunning road trip of self-discovery."
Sophie Grenham, Irish Times – Gloss Magazine
"A warm, insightful book packed with heart … Expect tears, laughter and moments of reflection along the way. If you've ever wanted to undertake an epic road trip, then this lovely book by Wexford author Carmel Harrington is for you."
 Carrs.ie Book Club
"Anyone who loved the great Maeve Binchy will adore this gorgeous gem of a book."
Claudia Carroll, No. 1 Irish Bestselling Author & Fair City actress
'Carmel is very talented at writing a great novel, with multi-faceted characters who, in my mind, are very real, and just like you and I. They face tough times, and as with her earlier works, Carmel never shies away from tackling serious subjects such as grief, illness, bullying, and unhappiness. If you haven't read Carmel before – where have you been?'
Jill loves to read, chosen as a top read of 2016
"A wonderfully life-affirming, heart-warming book. Carmel Harrington writes with such honesty, you'd have to be made of stone not to laugh and cry along with the Guinness family on their European journey. I loved it"
New York Times bestselling author Hazel Gaynor
"The Things I Should Have Told You is my new favourite of hers, and one of my absolute favourites of the year … The phrase 'one more chapter is never enough' was made for this book, as at the end of each chapter I just had to read another … Each stage and destination brought something different and fulfilling to the book and made The Things I Should Have Told You a memorable, inspiring and utterly beautiful novel."
Reviewed the book, chosen as a top read of 2016
'A great portrait of family dynamics told in a warm and relatable way.'
Irish Times bestseller Emma Hannigan
"This book is beautiful; it's delicate, inoffensive, relatable and satisfying. More than anything else, this book is comforting. There is warmth in Carmel Harrington's writing, leaving an imprint on your mind. There will be parts of this book that will stay with you once you close it for the last time, and that is the mark of a true masterpiece."
Claire by Reverie
"Sometimes you come across a writer whose words just blow your socks off. Carmel Harrington is one such writer. If you fancy a book that will tug at your heart strings and leave you with a lump in your throat and a tear in your eye then this is the book for you."
Brook Cottage Books
"Carmel Harrington has done it again, she has allowed us to look into a families life story exposing the realities of falling in and out of love, the beauty of intergenerational relationships and the ability of love to conquer all. This is a journey of mind, body and soul. It will expose your innermost emotions and fire you from delirious happiness to abject sorrow and back again. I couldn't put this down, this book could easily be used in the study of human relationships so strong is this tale."
Adrian McKenna
"Carmel Harrington is an author that makes you live inside her books, from the very first page you'll be hooked."
Crooks on Books
"it will be in my top reads of this year! I do think Carmel's books should come with a packet of tissues attached to the front cover because she has an amazing knack of making you feel all the emotions along with her characters! Carmel Harrington is definitely one of my go to authors when I want a story that will me me laugh, cry and smile and leave me with a happy glow."
Portobello Book Blog
"The Queen of Emotional writing has struck again! Carmel Harrington has such a wonderful way of bringing her characters to life that before long you forget they are fictional characters and you come to care about them and just wish for a happy ending for them."
Reas Book Reviews
"The book felt real – it was very reflective of what really goes on in a family dynamic – the arguments, the seething animosity, the love, the loyalty, the special memories and family unit / bond that can be hard to describe, let alone understand. It's a real feel-good book, is well written and engaging – a good all year round read."
Lady Nicci
"a special, powerful book. When I finished reading it in one sitting, having laughed and cried alongside the Guinness family, I knew that this book had that something extra that makes it superb."
Books of all kinds
"This is an in-depth, emotional voyage of self-discovery, forgiveness and acceptance. It was joy from start to finish balancing the wit nicely alongside some more serious, sad moments."
Shaz's Book Blog
"Wexford writer, Carmel Harrington has put her heart and soul into this novel …
this is a novel that you can really escape into."
Bleach house Library
"The Things I Should Have Told You is her best so far. This is beautifully written book, that I loved from start to finish.  Funny, smart and insightful."
Kelly's Book Corner
'I have previously enjoyed Carmel's books but 'The Things I should have told you' is a stand out, wonderful uplifting story told via characters that you feel like you know. This book stays with you long after finishing and also makes you want to get a camper van and travel the world. A reminder to us all to leave nothing unsaid. This would make a fabulous movie!"  
Paul Dunphy Esq
'THE THINGS I SHOULD HAVE TOLD YOU by Carmel Harrington is such a special, powerful book. When I finished reading it in one sitting, having laughed and cried alongside the Guinness family, I knew that this book had that something extra that makes it superb."
Books of all kind
"A heartwarming, moving and inspirational read"
ChickLit Club
"Carmel is a fabulous author and I have thoroughly loved all her books. Packed with emotion The Things I Should Of Told You makes for a great read. "
Boons Book case
"It is a book full of warmth, family and hope, a book that is full of messages and ideals,
all nicely bundled together with fantastic imagery and great characters."
BR Maycock Blog
"…the ending! Just wait – it's brilliant! Poignant. Tender. Up-lifting."
Ronnie Turner Book Blog
"an emotional read that tugs at the heart strings and restores the reader's faith in human nature."
Linda's Book Bag
What Carmel says:
I always wanted to write about travel because it's been such a big part of my life.
When the Guinness Family began to whisper to me, I knew that I had to send them on an epic adventure to explore how travel can make you see the world from a new vantage point and ultimately change you.
Throwing Olly, Mae, Evie and Jamie into a small space, like Nomad, seemed like the perfect way to explore the complex dynamics of family life. I particularly wanted to look at the relationships between husband and wife, parent and child, and how lies and half-truths can tear people apart.
We are never the best versions of ourselves when we are under stress. And that's certainly the case for Olly, Mae and Evie. Ultimately I wanted to write a story that explored the true meaning of home, of family, of love.
I hope I've achieved that and created a moving portrait of contemporary family life for my readers.
The Things I Should Have Told You Book Launch in Wexford