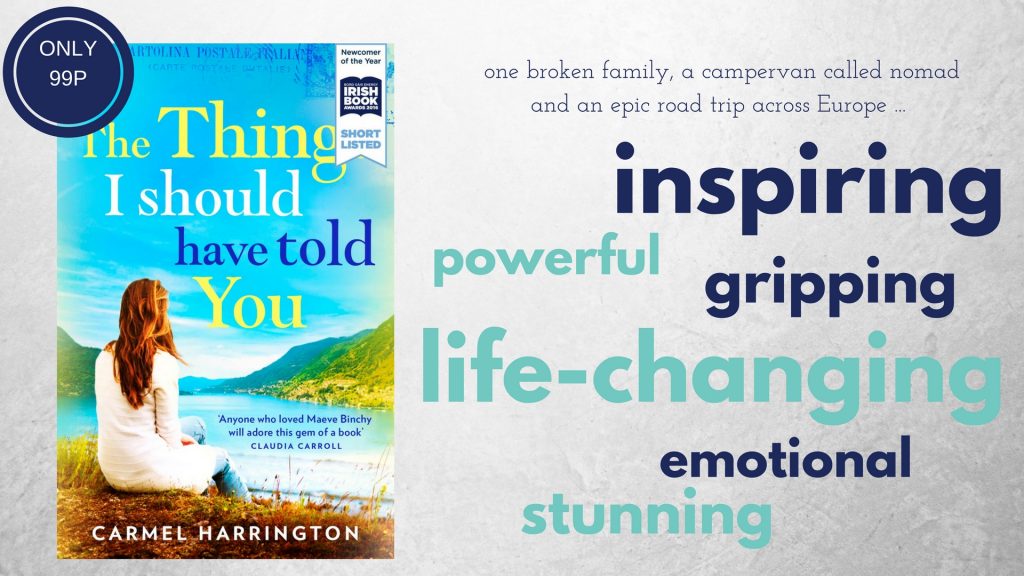 Quick Take
Campervan Road Trip Dramedy – Heartwarming – Inspirational
A broken family are sent on an adventure across Europe in a campervan, guided only by their grandfathers letters of wisdom and love
Good to know
Themes explored: Grief, Marital Issues, Bullying
Locations: Ireland, France, Germany, Italy, Romania, Croatia, Austria and Luxembourg

Key facts
Irish Times and Amazon Bestseller
Shortlisted for an Irish Book Award 2016
Woman's Way Top Read of 2016
UK/Ireland/Australia/New Zealand/USA/Canada (Harper Collins) 2016
Foreign translation rights: Hungary, Finland, Norway, Sweden
Every family has a story,
But for the Guinness family, a happy ending looks out of reach. Olly and Mae's marriage is crumbling, their teenage daughter Evie is on a mission to self-destruct and their beloved Pops is dying of cancer. Their once strong family unit is slowly falling apart.
But Pops has one final gift to offer his beloved family – a ray of hope to cling to. As his life's journey draws to a close, he sends his family on an adventure across Europe in a camper van, guided by his letters, his wisdom and his love.
Because Pops knows that all his family need is time to be together, to find their love for each other and to find their way back home…
What Carmel says:
I always wanted to write about travel because it's been such a big part of my life.
When the Guinness Family began to whisper to me, I knew that I had to send them on an epic adventure to explore how travel can make you see the world from a new vantage point and ultimately change you.
Throwing Olly, Mae, Evie and Jamie into a small space, like Nomad, seemed like the perfect way to explore the complex dynamics of family life. I particularly wanted to look at the relationships between husband and wife, parent and child, and how lies and half-truths can tear people apart.
We are never the best versions of ourselves when we are under stress. And that's certainly the case for Olly, Mae and Evie. Ultimately I wanted to write a story that explored the true meaning of home, of family, of love.
I hope I've achieved that and created a moving portrait of contemporary family life for my readers.
The Things I Should Have Told You Book Launch in Wexford