An uplifting and emotional must-read from the Irish Times bestseller
No.1 on iBooks, Amazon UK & US,  Kobo.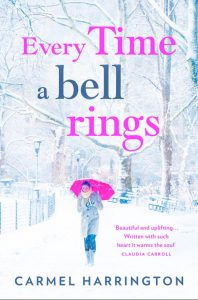 Foreign Rights sold to Finland, Norway, Sweden, France, Germany and Hungary.
READ A SAMPLE / BUY IRELAND / BUY UK / BUY US
Inspired by the timeless tale of beloved Christmas movie, It's a Wonderful Life, Carmel Harrington's next book tells the story of Belle, a young woman and foster carer from Dublin who faces the hardest decision of her life this Christmas on The Ha'Penny Bridge.
But what happens to a Christmas wish when an angel is listening…
Will Belle realise, before it's too late, that her life is the most wonderful life of all?
Full of Irish charm, magic, and the warmth of the festive season this is an emotional, heartwarming story that will stay with you long after you've reached 'The End'.
Perfect for fans of Maeve Binchy, Cecelia Ahern & Jojo Moyes.
Endorsements
'Embraces the spirit and the message of the movie…A must read'
Karolyn Grimes, actress, 'Zuzu' in 'It's a Wonderful Life
Beautiful and uplifting …Written with such heart it warms the soul.
Claudia Carroll, No 1 Bestseller & Actress

A compelling, magical, festive cracker of a book.
Alex Brown, No 1 Bestseller
Every Time a Bell Rings is a modern day fairy tale that will melt even the coldest of hearts.       
Novelicious  
Voted a Favourite Read 2015 by Laura's Little Book Blog "I have never feel so many different emotions and get so wrapped up in a story as much as I do Carmel's. She is without a doubt one of my favourite authors." Laura's Little Book Blog
---
Voted Favourite Festive Book 2015 by Rea Book Reviews "Carmel Harrington has such a delicate and stunning writing style that gets right to the heart of some very tender issues that I am aware of but she takes things deeper and usually ends up breaking my heart! This book sure is a captivating read that will bring a lump to your throat and will have you being more thankful for the life you live and sparing a thought for others." 
---
Voted Favourite Reads of 2015 by Lozza's Book Corner  "I couldn't put this book down, it made me smile and it made me cry – happy tears. Its a story of love, hope and ultimate happiness, plus its warm and Christmassy which is always a bonus – on that basis I can't give it a 1-5 rating. It goes pride of place on my 'Extra Special Books' page and is awarded my PowerFlower rating!"  
---
Voted Favourite Reads of 2015 – "Belle and Jim's story is heartfelt and beautiful, gorgeously written in a way that tugged hard on my heartstrings.  Don't be fooled by the Christmassy exterior –  Every Time a Bell Rings is a novel that can help you reassess your place in the world at any time of year." 
---
Voted Favourite Reads of 2015 – "loosely based on It's A Wonderful Life, this is such a beautifully written book. It's another one that had me reaching for my hankies (must be my age I think!) and it's now my favourite Christmas book which I can see myself reading every year." Portobello Book Blog
"I'm not sure I can find the words to describe how much I loved this book. It made me smile lots and it made me cry quite a few times and that's not something that a book does very often. It is a perfect Christmas book and I think I will have a new tradition to add to my annual viewing of It's  A Wonderful Life: this book will become an annual Christmas read." 
---
Voted Favourite Festive Book 2015 -" I have read several Christmas books so far (and loved them all!) but one in particular stuck with me and will be read time and time again. Every Time A Bell Rings by Carmel Harrington. There was something so magical about this book. Based on It's A Wonderful Life, this is a haunting, beautiful, hope filled story of Belle and Jim and the troubled childhoods they both wish they could move past. If you read one Christmas book, make it this one!" 
---
"Believe it or not this is Carmel's first Christmas book, but I hope it is not the last, as her beautifully festive storylines could surely become a December tradition all of their own.  Every Time a Bell Rings is a modern day fairy tale that will melt even the coldest of hearts. 10/10″ 
---
"Yet again, Carmel Harrington has created a magnificent story full of heartbreak, love and hope. Readers will warm to the characters and may just find a piece of themselves in the storyline. With the Christmas spirit wrapping every page, Every Time a Bell Rings is simply perfect! 10/10 High Rater"  
---
"How on earth haven't I read anything by this author before? I even devoured Tess's Christmas pudding recipe, the acknowledgements and the Q+A at the end. Heavens, there's even a couple of chapters of The Life You Left – and yes, of course that whole book's now on my kindle too…
If you only read one full length Christmas book this year… well, I really think this should probably be the one. But be ready to do nothing else until you finish – and don't wear mascara, whatever you do…" 
---
"The amount of times that Carmel broke my heart and then managed to fix it back together with this story was incredible. My emotions were all over the shop and I love an author who can get me so involved with the story that I don't know if I'm going to be happy or sad from one chapter to the next. This is Carmel all over. The way that she translates feelings and emotions; whether it be heartbreak, love, romance or friendship is incredible. I could really feel the emotions that the characters were experiencing as if I was stood in their shoes and a part of the story myself." 
---
"The book in a nutshell… tissues at the ready, and prepare yourself for an emotional roller caster that will leave you feeling happiness and sadness all in the space of seconds. This novel is simply amazing!" 
---
"What I adored most about this book is that it showed the impact of truly great foster families on the lives of children and what a difference it makes to their futures. I always said I couldn't ever do it as I would be a mess when I had to pass children back to their families or to a forever family. Reading about Belle's reaction to Lauren leaving had me sobbing as it was exactly how I know I would have reacted, the utterly human way these feelings were written just shows what a fantastic writer Carmel is."
---
"If you like a little bit of magic at Christmas, you should definitely give this book a go. I could not put it away. Even with all the Christmas perparations going on, and hence with so much to do, I just kept on reading and ignored (yes, I admit!) a lot of the Christmas housework that needed to be done… It was worth it, though :)"
---
"This is both an uplifting and emotional story with a thought provoking message at its heart. Everything we do in life has an impact on others – for good or bad. No-one's life is worthless and everybody has something valuable to give. 
Carmel's writing is beautiful; she writes with warmth and humour and is a wonderful storyteller." 
---
"Harrington draws upon the plot of It's a Wonderful Life quite a bit. In a way it makes the story seem more nostalgic. In essence the moral of the story is to acknowledge how lucky we are and to be happy for what we have instead of wanting what we might never be able to have." 
---
"This book is gorgeously written, touches your heart and gets you right into a festive and warm mood. I went through a mixture of feelings in this book and I just got hooked! MAGICAL!!!" 
---
"I have no idea how Carmel Harrington keeps coming up with these beautiful, life affirming books but I am so glad that she does. The characters are so well written I could see them, and I could believe this would work wonderfully as a film." 
---
"The beginning of the story was unique.  How many novels do you know that start with a HEA moment?  No, me neither!  This would have to be the one that was on the top of my list for the most romantic prologue ever.  I loved the symbol of the tiny silver bell :)" 
---
"Every Time A Bell Rings is a truly beautiful Christmas read. A definite 5 star rating." 
---
"It is a beautiful book about appreciating this what we're having and never doubting in the reasons why we were born, that we have our own mission to accomplish on this Earth. A read with a lesson in it, no matter if this lesson involved a lot of magic – it nevertheless sounded so real. It was a beautiful story that took my breath away, written in a brilliant way, full not only of gentle moments, but also a clever humour. Emotional, heart – breaking but also optimistic and full of hope, and twists and turns, and really there were moments that I haven's seen coming. It was compelling and so fulfilling, and I think everybody should read it!" 
---
"I really didn't want Every Time a Bell Rings to end and read it over several hours, as I was totally lost in this riveting, consuming story. It really did build up to a blinder of a conclusion and affirmed for me you really do control your own destiny and not anyone else." 
Emma Crowley on Shaz's Book Blog
---
"Yet again, Carmel Harrington has created a magnificent story full of heartbreak, love and hope. Readers will warm to the characters and may just find a piece of themselves in the storyline. With the Christmas spirit wrapping every page, Every Time a Bell Rings is simply perfect!" 
---
"Every Time A Bell Rings is a festive treat laced with multiple important themes including a really interesting and in-depth look at fostering and the affect it can have on so many people. It is a story that will stay with you after you've turned the final page and has lovely life lessons inside." 
---
"I love romantic stories, especially when true love is involved. This Christmas story is so special. I didn't want it to end and loved every word. Every Time a Bell Rings has a gorgeous cover. Both the outside and the inside of the book are filled with love and joy. It's exactly what a good Christmas book should be like."  
---
"An ideal Christmas read, with a twist on the tradition of 'family',  Carmel has sprinkled some fairy dust on Dublin and brought the role of foster parents to the general reader." 
---
"Take the phone off the hook, put on your comfiest pj's, line up some snacks and your favourite tipple, then wrap yourself up all snuggly and get ready to lose yourself in the world of Belle and Jim! I want to shout from the rooftops 'hooray! Carmel is back and her writing is as magical as ever!" 
---
"Full of charming sentiment, realistic life stories and characters so authentic, you expect them to be sitting in the room with you." 
---
"But overall the powerful message woven into every page of this story is that every life is important. Every person has something to offer. Your actions impact on others. What you do, however small, has the potential to change the world, whether that's directly or indirectly. You matter."  
---
"Though it is very emotional, it's not overwhelmingly so and there were many moments that made me smile. Most of all, this is a book that feels impossible to forget. The story made a huge impression on me and it's a memorable, moving and thoroughly fantastic festive novel. Also by far one of my very favourite books of the year."
---
"This charming story really took me by surprise as it wasn't what I expected at all. I have to say that the voice in my head when I was reading this had a lovely soothing Irish lilt to it and the story unfolded beautifully." 
Watch an endorsement from It's A Wonderful Life actress, Karolyn Grimes
What Carmel Says
This book was inspired by the beloved Frank Capra movie It's A Wonderful Life, my all-time favourite Christmas movie. The movie has incredible themes to work with, dark and light – from love, family, friendship to utter despair and hopelessness. My story centres around Belle Bailey and is told in three parts. Each part focusses on an important time in Belle's life. Her childhood in foster care in the 1980's, finding love in 2005, then as a foster parent herself in 2015.
I believe that families come in different forms and I've explored this in all of my novels. Foster parents fill me with awe. I've often said it, because it's true – they are walking angels. It's an emotional tale, with some serious themes running through it, but ultimately, the message is that life is quite wonderful, for all of us, if only we can see the world through different eyes. It's also quite romantic too, with a beautiful love story at the heart of it.
Every Time A Bell Rings Book Launch