A gripping, emotional story that will make you laugh and cry
No. 1 iBooks, Amazon UK & US, Kobo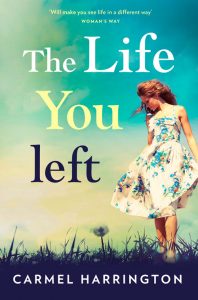 Foreign translation rights have been sold to Finland, Norway and Sweden.
READ EXCERPT /BUY IRELAND / BUY UK / BUY US 
The life you lived. The life you loved. The life you left…
For fans of Jojo Moyes and Cecelia Ahern.
It started out like any other day for Sarah Lawler; getting the kids ready for school, making the pack lunches and juggling baby Ella's feeds.
There was no way of knowing that her husband, Paul, would leave for work that morning and simply not come home.
Now the questions are piling up quicker than the unpaid bills and, unable to answer her children's questions about where their Daddy is, Sarah is getting desperate.
But it turns out she isn't quite as alone as she thought she was. When her beloved childhood friend, Edward, comes back into her life, Sarah thinks she's finally been thrown a lifeline.
There's just one problem with Edward: Sarah is the only person who can see him.
Endorsements
Carmel Harrington has done it again! Brilliantly written… it surpasses all expectations.
ChickLitclub
Seamlessly stitches three genres together.

Irish Independent
This story has lashings of charm, liberal sprinklings of magic and an abundance of heartache. You'll definitely need tissues close at hand for this wonderful story would melt the hardest heart.
Ismay1012, Amazon Top 500 Reviewer
"Engaging from the first page, at times emotional, at others thoughtful, The Life You Left will make you see life in a different way"
Woman's Way
---
"The Life You Left is a touching story with a mystic charm that draws you in. Guaranteed to brighten your day – once you have dried your tears!" 
---
"Grab those tissues and get yourself ready for a beautifully written chapter where you will experience all sorts of emotions from desperation, to fear, to overwhelming love and loss. I can't give too much away because I would be ruining a perfectly good storyline for you."
---
"What really set this story aside from others in its genre was the absolutely stunning writing style, and the beautiful way that Carmel Harrington depicted Sarah's relationship with her twin brother James."
---
"I love her (Carmel)ability to make me as a reader feel as though I am part of the books an intimate group of friends. I love her style of writing, it for me has such passion and intensity in the storylines that I become totally engrossed from the first page.
---
"This story has lashings of charm, liberal sprinklings of magic and an abundance of heartache. You'll definitely need tissues close at hand for this wonderful story would melt the hardest heart."
Ismay1012, Amazon Top 500 Reviewer
---
"This is a unique story where the fantastical becomes real, the sadness- heartbreaking and the love- overwhelming. This one is a must-read. For everybody."
---
"It's the love and passion which Carmel writes with that allows her books to be extremely captivating."
---
"…the authors strengths lay in emotional writing I don't think there will be a single person who will read this book without at least having a lump in their throat!"
---
"Carmel has managed to allow us to read emotional and somber situations with such grace and passion that you don't and can't twist it into something that its not. This is exactly what a book like this needs. It's dark and its heartbreaking, but it has a life that runs through these, that makes you smile and enjoy it more."
Book Geek Wears Pajamas
---
"The Life You Left is a charming, compelling book with a distinctive ethos. Full of memorable characters, you don't want to say goodbye to. This multi layered story melds mystery, romance, paranormal and suspense together beautifully."
---
"There's plenty of keep you turning the pages and yes, it does pull at the heart strings."
Irish Farmerette Lorna Sixsmith 
---
"Carmel's writing is so real, honest and full of life. The atmosphere in this story is incredible and it made me never want to leave this world."
---
"The Life You Left had everything – from family, love, protectiveness to more harder-hitting and sensitive issues. I really connected with Sarah in this novel and her wonderful, strong personality makes her probably my favourite leading character in any book I can remember reading." Reviewed The Book
---
"One of Harrington's strongest points are her characters. In The Life You Left, she takes the time to craft her characters and make them completely realistic."
---
"It feels inspiring and hopeful and it added an extra special magical flavour to the book that I really enjoyed." 
---
'The Life You Left' managed to grip me from its first few sentences until the last final stop, and in between it took me from laughter to anger to tears and back to a smile on my face."
A spoonful of happy endings
---
"Carmel weaves some magic with her writing that is both unbelievable yet believable at the same time, creating an air of pure goodness and innocence around Sarah's gift. Stories and characters interweave and give you an unstoppable tale of lost love, family and acceptance."
Best Chick Lit
---
"While the story is wonderfully written I loved the emotions more than anything. It has heart and that is what I've been missing in a lot of books I've been reading lately."
---
"Carmel knows how to hook you in at the right time and when to throw you for a loop.Its what makes her an amazing writer."
---
"The Life You Left is a warm, uplifting novel about change, trust and instinct. A cross between Celia Ahern and an episode of Medium, it will have you looking over your shoulder to see if there's someone watching your back………." BleachHouseLibrary
---
"Reading this book is like being wrapped in a big hug. The sad times, the hardships are forgiven because they are written so sensitively and truthfully."
---
"Readers will love the mystery surrounding the whole novel as well as the moments of humour."
---
"The ending of this novel was not expected and was so heart breaking. Carmel Harrington surprised me and the ending had a big impact on me."
The Life You Left Book Trailer
What Carmel Says:
The Life You Left is set in a small fictitious coastal village called Ballyaislinn, in Co Wexford.  This village is very like the one I live in, I even named the local pub, after our own – Freddies Bar! I wanted to write a story that pulled apart the smiling facade that we often show to the world, when inside we are in pain. I created Sarah, a psychic, who has a unique ability to scratch beneath the surface and see what's really going on behind closed doors. Her life is turned upside down by three events that happen in quick succession. Her husband is missing, a body is found washed up on her local beach and a childhood friend returns to her life – Edward. I love to throw as much trouble as I possibly can at my characters, to see how they cope. I've always believed that we only realise our true strength, when we are faced with our biggest adversity. I never quite know how a character is going to react, until things get desperate for them. There are plenty of twists in this story, that should keep the reader guessing up to the end. It is character driven and an emotive story, but I do try hard to ensure that humour is weaved throughout.