No 1 iTunes, Kobo, Amazon bestseller
Romantic eBook of the Year 2013
Kindle Book of the Year 2013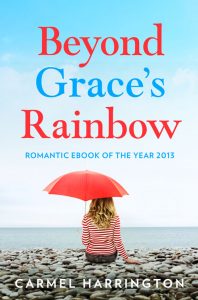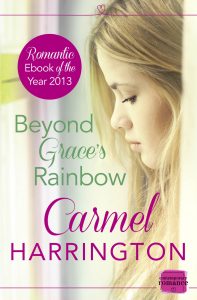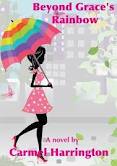 Foreign translation rights have been sold to Turkey and Brazil.
It will change how you look at rainbows forevermore
Beyond Grace's Rainbow is the deeply emotional and poignant story of young single mother Grace Devlin.
When Grace is diagnosed with cancer her best chance of survival is to find a bone marrow transplant from a family member. Only Grace is adopted and her one previous attempt to connect with her birth mother resulted in bitter disappointment.
But with her young son, Jack, to think about, and the return of her ex Liam, Jack's father, reminding her of feelings she'd thought she'd buried long ago, Grace refuses to give up hope just yet. With the help of her friends she bravely embarks on a journey of discovery.
This search will bring her from her home in vibrant Dublin to the unspoiled beauty of Wexford where she must unravel a web of lies and deceit that has spanned over thirty years.
With a wonderful cast of supporting characters and plenty of charm, this will have you laughing and crying at the turn of a page.
Carmel Harrington is an exciting new Irish voice in women's fiction – a must read for fans of Cecilia Ahern!
Endorsements
It will pull you in, make you laugh and break your heart – in a good way! – USA Today Bestselling Author Abby Green

Abby Geen, USA Today Bestselling Author 
***
This book was breath-taking … the emotion was so raw and unexpected that I had tears streaming down my face.
Rea Book Review
***
A bittersweet, quietly brilliant novel that will make you cry, laugh and cry all over again.
Female First Magazine 
***
"I suffered a massive book hangover after reading this. I was crying like a baby when I reached the last few chapters. I cried more for this than I did for The Fault in Our Stars." Eve's Chick Lit Reviews
---
"This story is going to blow you away, is going to make you cry and is going to make you laugh (not a lot of authors can achieve that). And it is going to stay with you. I am quite sure that I'll think of it every time that I see a rainbow. " LostInChickLit
---
"Carmel Harrington has written a warm, endearing tale of a woman's journey through illness, good and bad.  It is more a novel of spirit and friendship, love and hope, than one of medical procedures." BleachHouseLibrary
---
"This author is one to watch out for. Writing with such emotion that you get drawn into the bitter sweet story." ReviewedbyFran
---
"…it is romantic, thrilling and  full of fabulous characters" TheMadWomanInTheAttic
---
"Carmel Harrington has written such an emotional book and despite the need to have a box of tissues close to be on the safe side, Beyond Grace's Rainbow has loads of really sweet and humorous moments." ReviewedTheBook
---
"This book was breath-taking, although I have read many books that have brought a lump to my throat, this book went one step further, the emotion was so raw and unexpected that I had tears streaming down my face"ReaBookReview
---
"A story filled with love, friendship, sorrow, forgiveness and above all hope BEYOND GRACE'S RAINBOW was a wonderful, unforgettable story that will stay with me for a long time." WhatDanielleDidNext
---
"the final few scenes had me in pieces. The characters' dialog during this time is so heartfelt, it's almost as if Harrington paused in her writing, took a steadying breath and then proceeded to pour all her emotions into every single word." BestChickLitClub
---
"Yes, this books will take all your emotions and stir them up until they become stiff enough to pierce to your heart."BetweenMyLines
---
"From the moment the first page is turned, the reader is transported to Grace's world, where we are shown love, honesty, triumphs and tribulations." ChickLitClub
---
"There were some of the happiest life-affirming moments in this novel which were followed by some of the most devastating moments I've ever read." She Loves to Read
---
"Beyond Grace's Rainbow is a bittersweet, quietly brilliant novel that will make you cry, laugh and cry all over again." Female First Magazine
---
"I felt my heart swell during the romantic bits. Her writing could be described as "funny, poignant and bursting with heartfelt humour".IHeartChickLit
---
"All I can say about this book is 'WOW'! I could easily do a three word review on this and it would be 'Read it, now'!"Shaz's Boudoir Book Blog
---
"It's not just for us chick-lit ladies. It's for everyone who enjoys a good read and a brilliant book. It's Sensational." The Book Geek
---
"You will laugh, you will cry, you might even get angry.  One thing is for sure – this, thanks to the warmth of writing and the level of feeling Harrington obviously had for her characters, is a story you will never forget." AfterTheFinalChapters
Watch the Book Trailer
What Carmel Says
Beyond Grace's Rainbow is a contemporary drama set in Ireland. It has highly charged emotional moments, with strong themes that are extremely topical right now – adoption, donor transplantation, alcoholism and cancer. All heavy topics right? But within these emotive issues, is a beautiful love story between Grace and Liam. And a group of friends that have become each others family of choice. I loved writing the scenes where the friends are all together, laughing, teasing, loving, supporting each other.
I wrote Beyond Grace's Rainbow with the naivety that often comes with first books. I had no idea if anyone would ever read it, I had no idea if it would ever get picked up by a publisher. But it was simply a story that I felt I had to tell. Grace had been buzzing around my head for years, following a conversation with my best friend, my person – Ann, who is also adopted. Their stories are very different, but they do share the same burning need to uncover the truth about where they came from, a right that all adoptees should have realised. Grace's story just needed to be told, so I wrote it without even thinking about where it might end up. When I finished it and read it through I did feel that there was something special about the story. I cried for days when I finished it and it will always hold a special place in my heart. I'll be forever grateful that the readers seem to agree.