Hello everyone, how are you? 
Have any of you used Pinterest as a virtual mood board?  I use it all the time for my writing projects. I keep the boards secret, for works in progress, then when my books are published I go public!
Write on track have written a blog post giving authors some tips on how to use pinterest, you can check it out here 
For me, it's become an essential part of my writing process, adding pics that inspire my characters, themes, locations and plot.
It worked really well for Beyond Grace's Rainbow and already my secret mood board for Remember to be happy is getting quite full!
I've just made The Life You Left mood board public and have made sure that any spoiler pins were deleted! If you would like to check out these boards, you can do so here!
In other news, I finally ticked off an experience that I've been talking off doing for years. I went camping. Well, when I say camping, thats not strictly true, as there was a pretty comfortable mattress between my back and the ground and I'm happy to say that I didn't get up and personal with insects. But I did however go glamping!
And my verdict? I'm hooked! The entire O'Grady tribe, (my family) headed off convoy style to Rivervalley Camp Site in Wicklow. We covered all aspects of the camping expereince, as between us all we occupied two caravans, one tent and two glamping huts!
Here's the H's home, it was fantastic, bunk beds for the kids and a double for Mr H & me, of which the kids ended up sleeping in with us anyhow.  
We bbq'd, we drank some wine, we walked, we talked, we laughed and we celebrated the engagement of my sister Shelley to the very lovely Anthony. It was perfect.
Here's a pic of us H's manning the cannons outside Wicklow Gaol. (Highly recommend btw)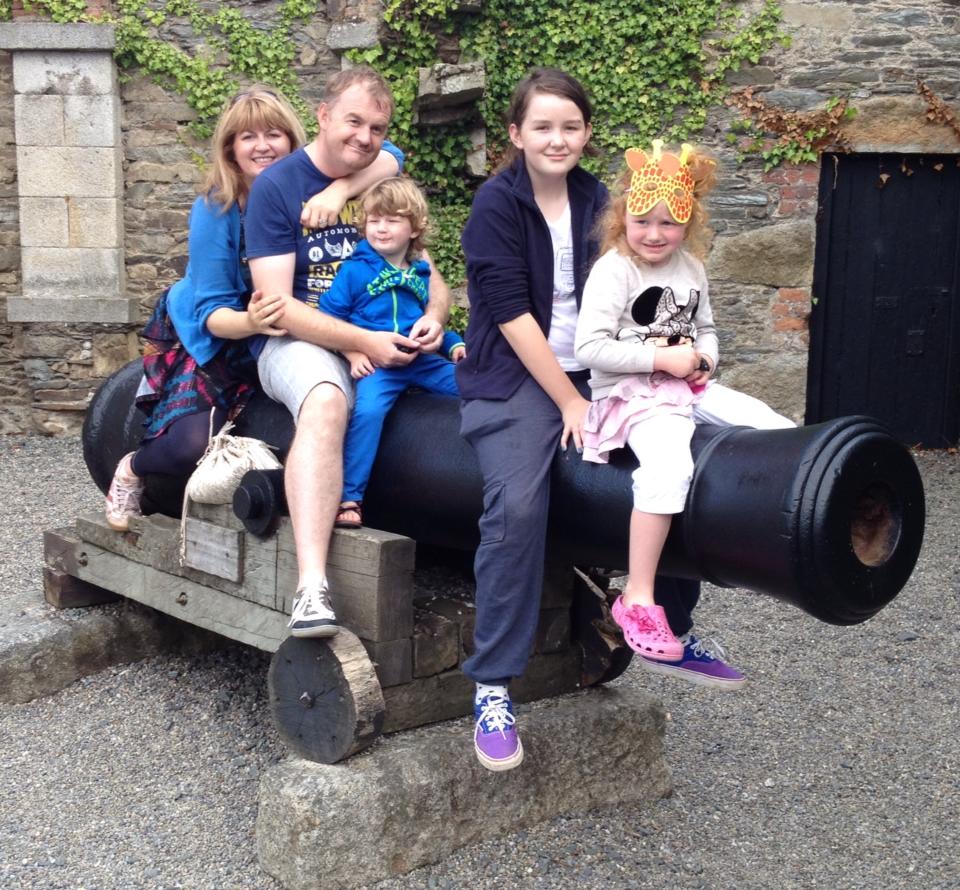 I always wondered what the fuss was about, but now I get it and I'm hooked. No TV, no WIFI, no white noise. Camping strips back all the unnecessary stuff that we think we need, but really we don't. 
There was a spirit of camaraderie in the campsite between every one there. I don't think I met so many happy smiley people. Even first thing in the morning, as bleary eyed campers headed to the communal toilets. Everyone was smiling through their yawns. 
I'll be back, but next next time I have my eye on the tree houses! Check out these babies (family members posted in front are additional extras, but I'm sure I could persuade them to go with you, if you really want them!)
Right, time to sign off and say goodbye, I'll be back tomorrow with some news of a short story anthology I am taking part in for Christmas! 
Ho, ho, ho all
Carmel x