Hey everyone
Having a good weekend? I'm super chilled today, PJ city here in the H's, as we are all relaxing after a busy weekend.
Actually chilled is a gas and altogether appropriate word altogether, cos' I got rightly chilled courtesy of the #ICEBUCKETCHALLANGE – along with 90% of the country I reckon!
You can watch my video here, if you want to see me gasp. Tis' only short I promise, no long prose!
I've been having a lot of fun watching the videos of both friends and celebrities these past few weeks. I know some people are getting #ICEFATIGUE, but me not so much. I've not seen one yet, that hasn't made me smile. Or cry, as in the case of the amazing Anthony Carbajal's video.
If you've not watched it yet, please do watch it to the very end. I know finding 5 mins to watch anything is hard these days, but this really brought home to me what all the ice nonsense is really about and made me want to do my own video. And before the thought leaves your head, I promise you I donated, several times actually.
Once I'd mopped myself down, I got myself all beautified to head to the Ultimate Girls Day Out in the RDS yesterday. Special thanks to my MIL and SIL, Evelyn and Leah who took such great care of Amelia and Nate for the day. Spoiled rotten they were.
Aine Toner, the talented editor from Woman's Way magazine asked me to be one of their author guest speakers in the Smart Girls Zone, alongside Claudia Carroll, Caroline Grace Cassidy and Martina Devlin.
I was so excited to meet all of them in person, as we've all been chatting quite a bit on social media for the past 12 months.
You know the way it's often said, be careful meeting people you admire, because it's very hard for them to live up to your impossibly inflated expectations? Well, that certainly wasn't the case this time, because Aine, Claudia, Caroline and Martina are all women who I admire, and they were all simply fabulous.
I was, I suppose, the new kid on the block and in truth as I walked into the arena, I felt a bit like the new girl in school. However, within a few minutes, any nerves disappeared as I realised that these lovely people were my kind of people. My only disappointment in the day was that we didn't get to spend more time together. Some how or other, I felt that we could have all chatted happily for hours.
But with promises of lunch dates and ghost tours (Tara, Claudia and I  will hold you to that!) I said good bye to them all.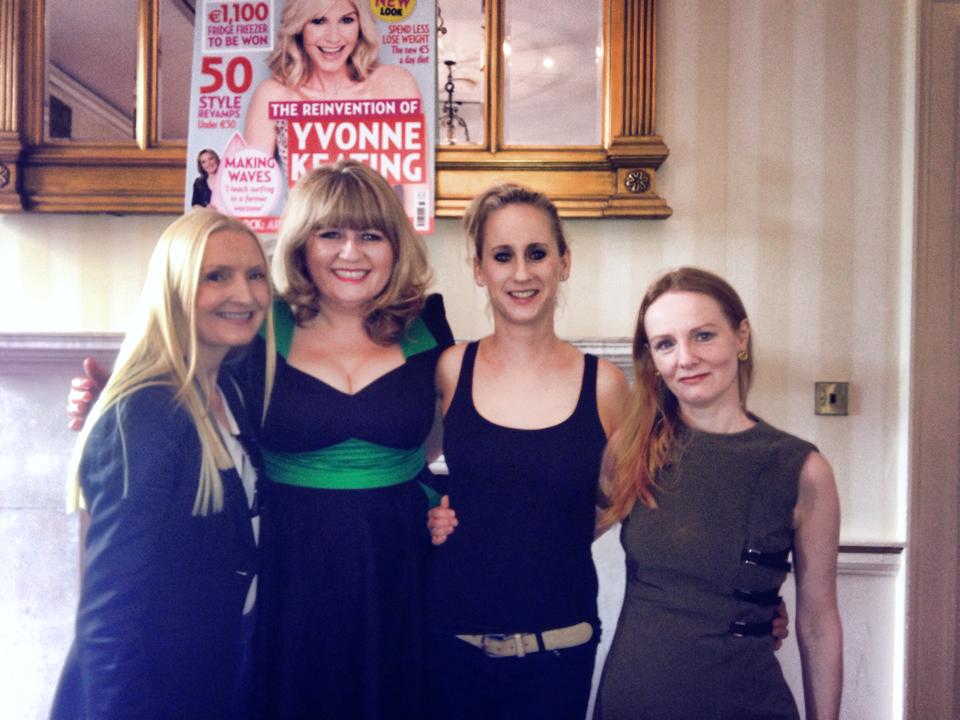 The very pink & pretty RDS arena was chocka with interactive workshops, question and answer sessions with seminars for aspiring entrepreneurs looking for insider tips from our gurus about getting ahead in business, fashion shows, makeup demonstrations & lot's of fab stalls with every girls wish list for their wardrobes and beauty regimes!
As I wondered around the arena, I was extremely flattered to be approached by staff who entered me into the Best Dressed Woman competition on the day. Was nice to be considered and huge congrats to the lovely winner, Deirdre McCaughey, who looked beautiful. (pictured below with the stunning Lorraine Keane)
I have skirt envy from all three lovelies!
And here's my Cover Girl Shot, courtesy of Woman's Way magazine. Love it!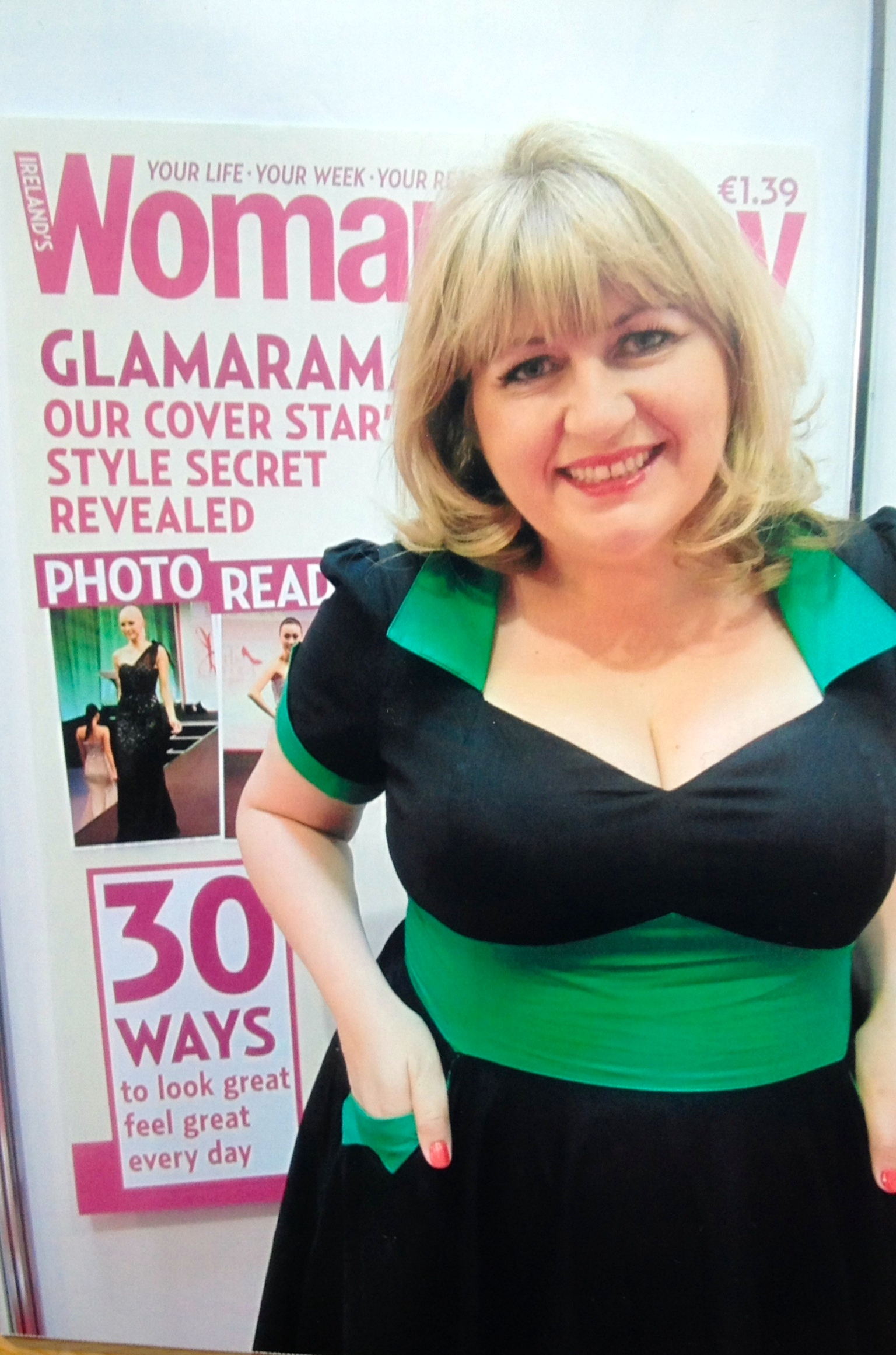 The dress has been much discussed, a big hit at the event and I have been asked over and over where I got it. If you know my style, you will know that I am a huge fan of all things 40's and 50's. 
This beauty is a :-Hell Bunny 50's Vampiress Dress Black Green
bought from an online shop that I love called Tigermilly.  
Hair done by the fab Annmarie in Donna's Hair Studio, Wexford, makeup by myself!
Right, that's all the news, with one exception. A little update on The Life You Left  – its currently on sale with Amazon for a bargain busting £0.99. So if you were thinking about downloading, nows the time to do I reckon.
You can get a copy here! And if you do, thank you! 
And a couple of people were looking for it in UK bookshops. Can't tell you how much it means to have your support and I'm really sorry you were disappointed. It's not on the shelves in UK yet, just here in Ireland. But lot's of sites do ship it in paperback internationally, including BookDepository, Amazon, Easons…. I hope that helps,
Much love to you all,
Carmel x