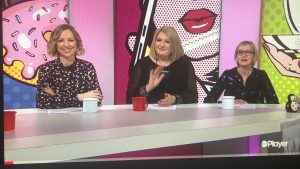 Carmel has been a regular panelist on Virgin Media's Elaine and Midday since 2015. To keep up to date with details of her next appearance, please follow her on Facebook, Twitter  & Instagram
2021 EVENTS
26th May
Join Rathmines Library for a very special online event with Carmel Harrington Author this Wednesday 26th at 6.30pm. Carmel will be in conversation with Jackie Lynam about her writing career and her new novel The Moon Over Kilmore Quay.
All are welcome.
27th May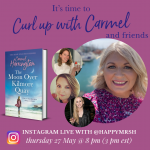 17th March.
Celebrate St Patricks Day with Carmel and Brent Libraries, London.
25th February.
reland Reads, Fully Booked with Wexford Library.
Harper Fiction Presents, Carmel Harrington & Ciara Geraghty in conversation with editor, Lynne Drew
Watch video
2020 EVENTS
Hold Me, Thrill Me, Kiss Me, Kill Me is a lively and insightful panel discussion on popular Irish fiction featuring some of the genre's best-loved authors including Ciara Geraghty (Rules of the Road), Carmel Harrington (My Pear-Shaped Life) and Zoe Miller (The Perfect Sister), in conversation with Sam Blake (Keep Your Eyes On Me).
VENUE: Online
TIME: Thu 15 Oct, 7pm
PRICE: Free: Booking Required
Click to book your place here:
Writing Popular Fiction Workshop with Carmel Harrington & Zoë Miller
It can be daunting to bring an idea you've been mulling over, to a finished manuscript. This workshop with international bestseller Carmel Harrington and award-winning author Zoë Miller will focus on the process of completing the first draft.
From protecting your writing time, nurturing ideas, creating authentic, well-developed characters in a killer plot, Carmel and Zoë will share their tips and techniques to help you reach 'The End.'
VENUE: Online
TIME: Sun 18 Oct, 10:30am
PRICE: Free: Booking Required
Click to book your place here:
PREVIOUS EVENTS
Listowel Writers Week, Dublin City Public Libraries Readers Day, Peter McVerry Trust Literary Evening, Wexford Literary Festival, Dalkey Creates, Mountains To The Sea Festival, Cork Library, Wexford Library, Enniscorthy Library, Waterford Library
EVENT FEEDBACK
Carmel not only has an incredible story but is a real source of inspiration for anyone who wants to follow their passion. She is such a kind warm person and that really comes across while she's on stage. Quite simply, if you get the chance to meet her, or see her speak, your life will be all the better for it. I know mine is. John M Sweeney, Founder of suspendedcoffees.com
It is, without doubt, one of the best things that I have ever done for myself either personally or professionally. Before the weekend I was focused but now I am focused and full of hopeful possibility. Sinead Brady, author and attendee The Inspiration Project, 2018
Carmel Harrington, gives more than her expertise and time to those needing to write. Her patience,understanding and encouragement (with a lovely personality) is unending. Sharon Thompson, Author
I was literally at the point of giving up writing and the weekend was just so life changing for me. I nowhave a really clear idea on what I want to write, the type of author I want to be and the 'brand' I want to create. In particular, I found the one to one session with Carmel Harrington so valuable. Thank you for giving me back my love of writing and for making the dream seem possible again. Brenda Keating, author and attendee The Inspiration Project, 2018
From following her on Facebook I had an idea of the person that Carmel Harrington is. But to meet her in person, I was blown away by how engaging and giving she is. Sheila Forsey, feedback from an author reading in Enniscorthy Library
The Rogues Gallery

Carmel pictured at festivals, book launches and writing events  …